About Tax Associates
Tax Associates a St. Paul Minnesota firm comprised of highly qualified, individual & business tax return specialist. We provide a wide variety of tax, accounting, bookkeeping and planning services. We are committed to fostering client relationships by being open year round, not just during tax season. We prepare tax returns for all States and Property Tax/Rent Refunds for Minnesota. All tax returns are sent through the e-file system. Appointments & walk-Ins accepted. We look forward to hearing from you!
Do not pay HUGE FEES for a fast tax refund before reading this!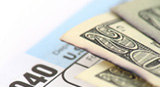 We do not charge to get refunds back quickly.
There is no charge for Direct deposit of any Federal or State refund.
Tax refunds can be deposited directly into your checking account in as few as eight days for federal and even faster for state. Tax Associates™ only charges you to professionally prepare your tax return, the rest is FREE! Call us for information or an appointment today.
Federal & State Refund Info
Property Tax Info